Birthday weekend…
Might be able to drop in for a bit on the Friday evening but many variables are involved.
Well with good planning, and 7 weeks to go, you should be able to minimise the variables.
I may even buy you a pint…
Sarge.
Premier inn Gloucester (Little Witcombe), is that one you go to instead of travelodge? Seems close, 6miles.
Ah, fully booked now, hence not showing on the list.
Travelodge isn't far from it if you choose to stay there instead
Gloucester Premiere inn is same distance, and it less than 10 minutes away.
Both are easy…
Sarge.
I've already got the travelodge but the premier inn was £25 a night less hence I was looking at changing to it, Gloucester is still free but don't want to knock my chances of getting a lift

Gloucester premiere in is on my way home… minor detour
Sarge.
3 weeks to go until first LAN of the year! So who is coming?

Me
Barry
Alex
Owen
working on it, plugged in the Rift last night to try the new songs
Haven't tried them yet. Was so overjoyed at finally getting my mods working again that I worked through some of my favs

I am so out of practise
so it's not just me then - these new songs are longer which really starts to hurt!
At first I thought I was out of practice so went back to 1st gen songs and nailed them.
I've even gone down to playing these new ones on Hard to get through them!
So I'll be on normal then

Will give them a go tonight

Completely off topic but I now seem to have ads in my sig

it's after every X posts, was playing with some settings
Ahh ok!
Think the 6 new songs are a combination of both for you

I was able to do hard no probs but couldn't do expert!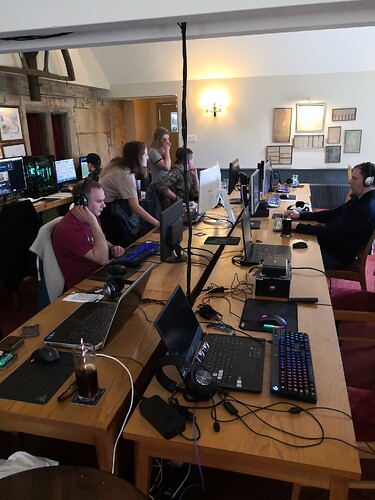 Some nice new chairs and tables, a projector and screen for next event. Projector for this event on the wall to watch the Overwatch League later
New tables worked will, nice setup overall now

Thanks to all who organised this again and the pub, lovely food