Credit to Free-DC for the graphs and stats!
Team Stats on 2-28-10 at 0410 gmt
173,647 (RAC) Up +6,706
42,744,823 (Overall Credit) Up 227,193
Team Ranking
#2 in RAC-- 7,832 behind #1-- Planet 3DNow!
2nd in Overall Credit- 9,446,736 behind – Planet 3DNow!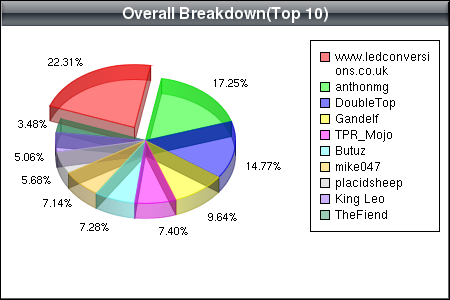 Metrics Today
Top User :anthonmg - 35,861
Users Returning Work : 36/59 (61.02%)
Points per user yesterday : 6,010
Users going up : 16
Users going down : 24
Users in top 100 : 14
Users in top 50 : 9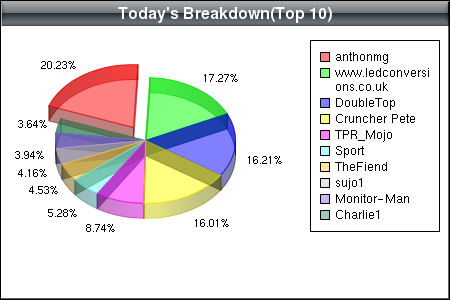 Team Member Movements: :stomp::stomp::stomp::stomp:
sujo1 Stomps Spesh claiming 18th position.
Cruncher Pete Jumps 3 spots Stomping JUGGY, bigsheff1 and VK7FGMH to move into 23rd position.
Lonely Stomps SJ761 claiming 29th position.
Lee Ann Stomps Noel moving into 41st position.
P51 Mustang Jumps The Asgard claiming 44th position.
Egad Ivegoninsane is on the move again with a double Stomp of
Michael Roberts and Ike to claim 47th position.
morpheus Stomps Brian moving into 54th position.
Phased_Array starts off with a double Stomp of Phoenix714 and Charlie Hartono Lie claiming 57th position.
Milestones:




www.ledconversions.co.uk passes 8,500,000 credits. He also moved into the #3 spot overall for Docking. Outstanding achievment!
DoubleTop claimed the #8 spot overall in Docking!
Brooklyn74 passes 450,000 credits.
Lee Ann passes 80,000 credits.
Charlie1 passes 10,000 credits.
morpheus passes 2,000 credits.
Phased_Array passes 500 credits.
Welcome to Phased_Array who joined us today.
All I can say is WOW !! Talk about a lot of Stomps and Milestones!
A great day of production as we had our 4th best daily output of all time.
Rac continues to head north as we close in on the #1 spot.
We also gained another 45,000 credits on Planet3D Now!
Great work everyone, thanks for your contributions!
Keep Crunching! :tiphat: