Credit to Free-DC for the graphs and stats!
Team Stats on 3-27-10 at 0405 gmt
161,905 (RAC) Down -8,676
48,570,921 (Overall Credit) Up 147,208
Team Ranking
#2 in RAC-- 58,994 Behind of #1-- Planet 3DNow!
2nd in Overall Credit- 10,881,176 behind – Planet 3DNow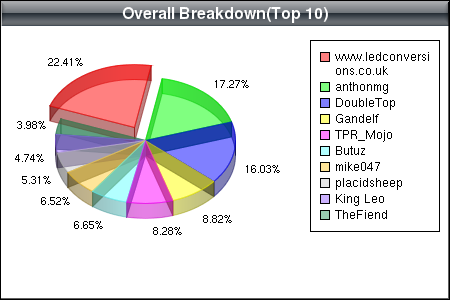 Metrics Today
Top User :www.ledconversions.co.uk - 26,936
Users Returning Work : 18/57 (31.58%)
Points per user yesterday : 6,344
Users going up : 7
Users going down : 29
Users in top 100 : 13
Users in top 50 : 10
Team Member Movements:
SJ761 Stomps JUGGY moving into 24th position.
Bullseye Stomps Andy Williams claiming 32nd position.
Milestones:


TPR passed the one year mark on 3-25-10
Production down with all the problems from Docking.
I have two computers with no work, and can't seem to get any?
Cograts to all who have help TPR reach number 2 in our first year.
Hang in there as i'm sure it will get better.