How slacker of me to not post on here!
Since around March - I've been tinkering with a purchase made to partake in the rally/challenge http://www.getyourbangersout.co.uk/ in aid of Thames Valley Air Ambulance and Sparkles.
Some will have seen the updates thanks to Facebook - so here's a short version.
In March, collected a Jaguar S-Type with 12 months MOT in line with the rally rules, £400. Now the MOT is fine, it's safe, doesn't mean everything works - or in this case, much works at all. A few months of tinkering, fixing, swearing, more swearing and straight up teach anyone in audible range a whole new range of "mechanics phrases", the car is now on the road, tax and insured.
Our team name is "Garfield Appreciation Society" and you can follow our daily updates on FB https://fb.me/garfieldgybo2019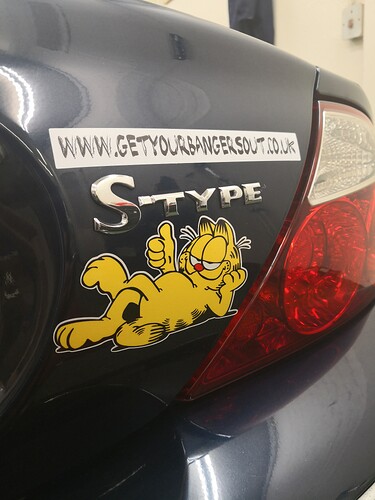 The next LAN meet - you can probably meet and greet with our cat, laugh at some of the "repairs" and hopefully have a bit of a giggle and sponsor our team online or in person.
The sponsor page is https://justgiving.com/crowdfunding/gybo2019 and if you do put some in the pot for the good causes, please do mention our team name "Garfield Appreciation Society".
To paraphrase our veteran "banger rally" members, "what's the worst that could happen?"