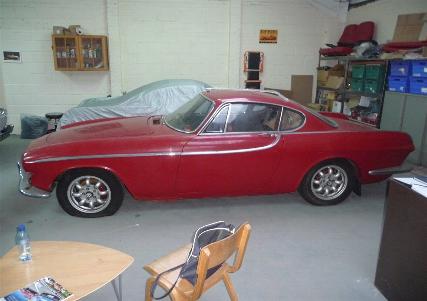 Nice to see you Trey.

I love your selection. This would be my choice. The Volvo P1800S.
I had a Gremlin (AMC) 1977 (BLUE) with a 304 in it. I goosed it up some and well it was fun little car for street racing when I was in young. Next came the TRANS AM stage 1979 with 403 6.6 Liter and what a monster. Then I got married and poof last toy was a Shelby Charger Chrysler 1983 1/2 with Turbo Charger installed for HP…that was a fun car. I was a car geek before computers and had to have toys! What I have always wanted was a Lotus Esprit Turbo but being young that was just a little over my income…maybe one day something like it!
Triumph Stag - even though I know I don't fit in the drivers seat
There's just something about the exhaust note of a well tuned Stag
Something small, fast and sporty with a decent CD system - preferably one seater.
No more moaning women in the passenger seat or whining kids in the back, I can play MY music as loud as I like it, and can have the roof down in the rain if I want to . . .
. . . oh, and no more of that " I used you're car to do the weekly shop at Tesco because it has a bigger boot than mine "
it's what dreams are made of

The 928 finished with 350 HP in GTS trim, but seeing Risky Business again made me realise how much that car looked like a squashed Pacer, lol!
As I have a strip of lottery numbers to check I will chuck todays wishlish onto the table
Ultima Spyder

Noble M400

The only reason you want one of those is to remove all the body panels and shove on a Lada Riva body kit
oh the fun you could have with the 'boy racers' at traffic lights :lol:
Well, if I had to pick something to cause upset in a Traffic Light Grand Prix, THIS would fit the bill
Excellent find TFW

Great videos

Checked my tickets, £3.50 ish doesn't get you much these days

Nice article with the late George Barris. I have always liked the car (the wide body and Mohawk bias belted rubber), but some might not, lol. Discuss!!