22nd March 2002
Genome@Home Supplement
Team stomping good news again for the Genome team!

Hardware_Analysis have indeed fallen under the wheels of the TPR Genome Bus as we slide smoothly into 39th spot.
Team Status
I don't get tired of saying this: "We continue to out-produce the majority of the teams around us and our production rate for the past few weeks has been consistently in the top 20 teams overall – currently 14th." Again, the only long-range threat is the 'killer' frogs over @ AMDmb.com, but on the close range scanners we actually out-produced the GENEtals yesterday and on the weekly output they have been reduced to a meagre 400 point gain so we continue to make inroads into the lead they managed to pull out (Mincer!).
EASILYADDICTIVEdotcom will be the next team to feel the boot, probably tomorrow :stomp: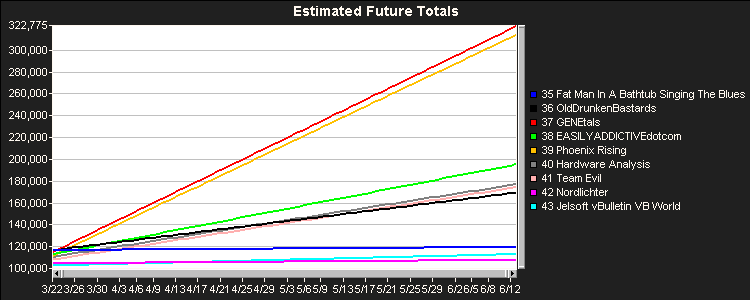 Team                                       Units

35   Fat_Man_In_A_Bathtub_Singing_The_Blues   117927.05
36   OldDrunkenBastards                       117708.03
37   GENEtals                                 116432.63
38   EASILYADDICTIVEdotcom                    114298.69
39   Phoenix_Rising                           112887.40
40   Hardware_Analysis                        111809.97
41   Team_Evil                                109512.89
42   Nordlichter                              105809.25
43   Jelsoft_vBulletin_VB_World               103776.79 

Internal Affairs
Inside the team it's a day of unstomping as the Crabbleboys have made a comeback and unstomped themselves from nitRAM, Kaibigan has unstomped himself from Johnnypf and N2OCapri unstomps specialk. On the first time stomp front, PMM has stomped aschwarzie, Speedo stomps Spectre and Chas, and finally, Spike stomps atopperuk.
In the weekly production stakes, andyu continues to lead the pack, but with Alta Rica obviously taking his testing job for Cray very seriously, that lead is being gradually diminished. Honorable mentions for Curly99 and cipher residing only just outside the top 5 in weekly production.
   Name                 Units

 1 andyu               2699.15
 2 Alta_Rica           2294.81
 3 TPR_Mulda           1633.93
 4 riddlermarc         1451.78
 5 TPR_Mojo            1363.93

Daily production is always a different kettle of fish where differing –nonet strategies make themselves a little more apparent, but good going on Speedo's part as he tries to hunt down the elusive dragon…
   Name                 Units

 1 TPR_Mulda           513.09
 2 riddlermarc         435.18
 3 Alta_Rica           381.54
 4 Curly99             186.98
 5 Speedo              158.18 

Milestones
Big up for Alta Rica please everyone as he breaks the 5000 unit barrier, Speedo has made it to 500 in double quick time and finally, Curly99 has slipped past the 400 genes crunched mark.
There are a few people on the verge of milestones too, Mojo should pass 13000 units today, Crazydude is a whisker shy of 5000 and both nitRAM and Crabbleboys are on the verge of 2000.
Team Standings
      Name                   Units    Genes 

 1   andyu                41755.51    4562   
 2   TPR_Mojo             13005.08     921   
 3   TPR_Mulda            11664.44     697   
 4   curly_99              5574.39     402   
 5   riddlermarc           5462.29     555   
 6   Alta_Rica             5287.46     371   
 7   Crazydude             4933.87     365   
 8   JUGEARS               3671.03     283   
 9   ciipher               3553.48     242   
10   goody600              2212.39     154   
11   nitRAM                1968.43     184   
12   Crabbleboys           1949.77     192   
13   nitrile               1842.38     133   
14   madDragon             1788.12     160   
15   Mincer                 956.93      69   
16   TPR_Kaibigan           828.74      72   
17   Johnnypf               821.34      75   
18   mrpants                809.71      68   
19   PMMeasures             623.96      44   
20   aschwarzie             614.61      42   
21   Speedo                 606.71      42   
22   chas                   559.63      50   
23   Spectre                500.08      40   
24   Kwazy_Wabbit           454.69      30   
25   ConDigital             286.95      18   
26   Monkeymia              266.71      22   
27   adventurevision        208.94      12   
28   N2OCapri               181.96      13   
29   specialk               181.60      24   
30   turbopower             147.14      13   
31   Spike_TPR               84.24       9   
32   atopperuk               57.05       4   
33   [email]steven@kimber.co.uk[/email]     15.75       1   
34   Gandelf                 12.00       1