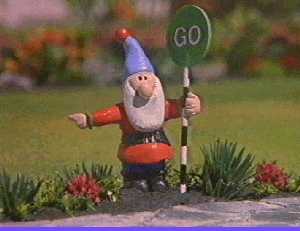 18th September 2002
Genome@Home Report
Team Status
I wasn't going to write report this week because I've been on a training course at work for most of the day and with being away for 10 days, but I gathered most of the stats at the normal time this morning and mailed them home, so here goes…
Not sure what's happened while I've been away, but there was a general lack of whinging in all the usual places with only a mention of a data server outage mentioned that resulted in peeps using the F@h 3.xx client getting some folding units and all my jolliday units went up Stanford's pipe (
:devil: ) last night/this morning and were all found to be present and correct within 2 stats updates so it looks like things may be on the up in that dept.
Still not sure about my own future in G@h as I find the science behind F@h to be more compelling and I keep feeling the pull of my first love (SETI) even though I've tried to retire on 4 occasions now! I may, or may not, put G@h on the back burner at convenient milestones for both my accounts soon.
Team production is back at a reasonable (5 figure) level with a good showing of 13th in the weekly standings. Please note that the stats are a little bit iffy in some respects because of the collation methods and the omission of an attachment in the mail leading to a slightly later snapshot being used for the daily totals – the weekly stats are bi-weekly for this report.
OK, weekly linkage time…
For official information on Genome@home 2.0 (aka Folding@home 3.0), see here, here and here.
To add to that, the F@h client is currently @ v3.11 ([beta's](http://folding.stanford.edu /beta3) are @ 3.14) and allows you to specify the type of units you want to receive – Folding, Genome or whatevah. Still no –nonet though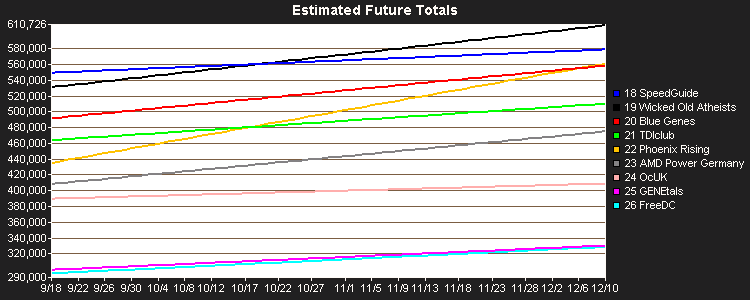 Team                                 Units      Weekly

18. SpeedGuide                         551014.23    4435.37
19. Wicked_Old_Atheists                532565.75   12020.33
20. Blue_Genes                         493252.95   10256.86
21. TDIclub                            465528.86    7014.52 [b]
22. Phoenix_Rising                     437968.33   20953.66 [/b]
23. AMD_Power_Germany                  409898.11   10159.56
24. OcUK                               391324.73    3024.45
25. GENEtals                           301068.03    5586.87
26. FreeDC                             296521.12    3625.75

Internal Affairs
Well, our relative N00b jaynewberry starts off the stomping again this week with a 3-way ( :devil: ) to sit on top of DarkFog, ConDigital and Spectre in 34th with a 500 unit celebration to boot. Next up, woof has been let of his leash again and left that distinctly canine trail through places formerly occupied by nitrile and scoobiebut only gains the 1 place into 12th because that bad bad man Mr Ghandi Pandi has been at it again and has gone for the 3-way to finish in 11th. Up top, nitRAM finally puts it over riddler's retired account and unstomps himself from kefkef into the bargain for a brief tenure of 5th with our final mover of the day being ciipher who also gets an unstomp on kefkef for 4th spot. And that's it!
The bi-weekly production stakes sees andyu back in his accustomed top spot. No surprises in the rest of the top 5 with Gandelf, ciipher and Alta rounding it out. Top crunching chaps

   Name                 Units

1. andyu               5581.03
2. TPR_Mulda           3884.19
3. Gandelf             2912.82
4. ciipher             2540.84
5. Alta_Rica           1785.97

Daily production of course is dependent on –nonet strategies and jollidays (responsible for my showing here :)) with andyu, ciipher, Mojo and Alta looking as if they're on the pay as you go tariff.

   Name                 Units

1. TPR_Mulda           2216.35
2. andyu                338.82
3. ciipher              101.14
4. TPR_Mojo              80.23
5. Alta_Rica             68.21

Milestones
A good sized bunch today…
jaynewberry…500 units
Ciccio…10,000 units
nitRAM…30,000 units
Alta_Rica…35,000 units
TPR_Mulda…45,000 units
andyu…85,000 units
Monkeymia…100 genes
Gandelf…500 genes
ciipher…2,000 genes
andyu…7,500 genes
Team Standings
[color=red]     Name                    Units      Genes

 1.  andyu                  89410.51     7703  
 2.  TPR_Mulda              47816.56     2886  
 3.  Alta_Rica              35027.32     2385  
 4.  ciipher                33004.36     2139  
 5.  nitRAM                 31313.99     2158  
 6.  kefkef                 30594.59     2083  
 7.  riddlermarc            30158.38     2264  
 8.  TPR_Mojo               20619.26     1430  
 9.  Crazydude              17811.67     1207  
10.  Ciccio                 10229.16      848  
11.  Gandelf                 9374.61      538  
12.  woof                    7077.46      471  
13.  nitrile                 7050.45      426  
14.  scoobie                 7006.62      450  
15.  Speedo                  6230.19      541  
16.  madDragon               6217.66      448  
17.  JUGEARS                 6153.20      433  
18.  goody600                5743.29      403  
19.  curly_99                5581.43      403  
20.  atopperuk               4571.72      284  
21.  mrpants                 3740.24      273  
22.  PMMeasures              3566.30      272  
23.  wnyotiel                2909.59      219  
24.  Spike_TPR               2819.35      305  
25.  Monkeymia               2142.26      100  
26.  Crabbleboys             2117.67      208  
27.  Johnnypf                1965.36      201  
28.  TPR_Kaibigan            1464.52      123  
29.  Mincer                   956.93       69  
30.  chas                     903.01       78  
31.  N2OCapri                 670.71       44  
33.  Kwazy_Wabbit             635.13       43  
34.  aschwarzie               614.61       42  
35.  jaynewberry              520.70       43  
36.  Spectre                  500.08       40  
37.  ConDigital               286.95       18  
38.  DarkFog                  241.79       18  
39.  adventurevision          208.94       12  
40.  specialk                 181.60       24  
41.  turbopower               147.14       13  
42.  SgtBilko                 109.01        9  
43.  Muppet9                  104.59        5  
44.  crazydude                 69.71        4  
45.  TPR_Spike                 66.99        5  
46.  James_LFC                 16.97        1  
47.  [email]steven@kimber.co.uk[/email]       15.75        1